The first full length album released under the Epilektric moniker, CD01 has a gritty lo-fi quality to it. The tracks are experimental and highly influenced by IDM artists like Autechre and Aphex Twin although they don't sound much like those artists.
There was a lot of sound design involved with creating samples for this album. Clips, snips, and bits of processed audio were collected and edited for sequencing. Very little in the way of live FX processing was used.
The tracks in CD01 represent a leaping off point for my exploration into complex rhythmic structures. A music critic might write in his review
"Slices of percussive noise bounce amongst dissonant tonal constructions and disembodied voices."
But that's just a lot of B.S. and really it's an amateur collection of fuzzy sounds imitating better tracks by far better artists.
All in all, I still find this album an interesting listen and queue it up from time to time.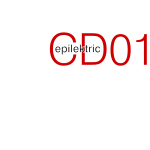 Year: 2001