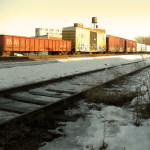 The other day we had some unusually warm weather here in the Midwest. I took the opportunity to get out for a walk among the mountains of thawing snow and ice to collect some sounds.
My neighborhood is in close proximity to quite a bit of industry and the train yard servicing that industry is also close by. The sources of these sounds are trains, bridges, trucks, cars, puddles, and drains.
My field recording hardware admittedly has its drawbacks but the results are still worth sharing. I've edited the recordings down to some of the more interesting sounds.
The samples have been consolidated in a .ZIP file for your use. There are 9 files in .WAV format recorded at 44.1KHz/16bit.