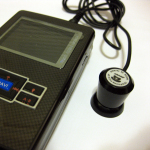 A short time back I was reading an article about using a telephone pickup coil to record EMFs created by everyday electrical devices.  The article on the Radium Audio Labs blog comes from the brilliant sound designers over at Radium Audio and if you haven't checked out their award winning work I suggest you do for instant inspiration.
I wasted no time in locating and ordering a telephone pickup coil for next to nothing to make my own recordings. Walking around my place I quickly found a half dozen electrical appliances to try it out on.
It's also interesting to note that while a pickup coil can record usually unheard EMFs it is equally capable of recording the EMFs of stereo speakers only without the background noise associated with regular microphones. I discovered the latter recording method lends a certain thin sound to music and voice while recording my alarm clock radio.
I have compiled a short example of the sounds I was able to gather around my place.
The longer recordings of each individual device have been consolidated in a .ZIP file for your use. There are 6 monophonic recordings in .WAV format recorded at 44.1KHz/16bit.
Laptop HD
Compact Flourescent Light Bulb
LCD Television
Microwave
Cell Phone
Phone Charger