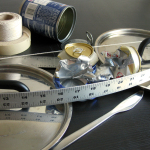 Inspired by my research into horror movie sound fx and DIY instruments I decided to gather up an assortment of metal objects and start recording.
Scrounging around the house I had no trouble quickly locating several candidates for my 'metal session' \m/ (ascii devil horns are optional).
The metal sound makers would be a soup can, beer can, metal ruler, knife, and two pot lids of different size. I also fashioned a homemade violin bow but to compare it to the real thing would be an insult.
The homemade bow was made using a metal yardstick, masking tape, and heavy cotton thread/twine like that which you might use to tie up a turkey before roasting. Tying a string to two ends of of some sort of stick so that there is a bow in the stick is so basic I won't bother explaining how I did that.
With everything prepared I began recording and discovered some truly horrific sounds: the squeals and screeching of tortured metal.
The pieces of thin beer can aluminum dragging across stainless steel pot lids proved to be a notable combination.  Sadly, the bow was a little disappointing but I believe my choice in thread and lack of rosin was to blame.
All in all my Metal On Metal experiment was a success. I will likely be revisiting this again in the future so don't be surprised if you see a Metal On Metal II.
The samples have been consolidated in a .ZIP file for your use. There are 72 recordings in two folders (straight & percussive) in .WAV format recorded at 44.1KHz/16bit.